REVIEW:
CHEROKEE NIGHTRIDER 150
<![if !vml]>

<![endif]>
The Cherokee Nightrider 150 came out in 1999, at a time when it was uncommon for a manufacturer to come out with a new CB that had both AM and SSB (Midland did a similar release with their 79-290). Unlike the Midland, this radio, for all intents and purposes, on the surface looked like any other run-of-the-mill AM/SSB mobile (i.e. Ė Cobra 148), however there are a few differences:
The faceplate is illuminated allowing it to be easily seen at night, and the radio itself has a feature that Cherokee called ďClear DriveĒ (CD). Clear Drive circuitry was somewhat unique, although Cobra had released their Nightwatch technology around the same time, and today (2020) itís not uncommon to find other manufacturers offering illuminated faceplates or control/knobs. The CD circuit has its own separate PCB, called the Compander board, inside the radio and offers benefits to both receive and transmit.
FEATURES:
<![if !supportLists]>∑ <![endif]>AM-SSB MODES
<![if !supportLists]>∑ <![endif]>4-PIN COBRA/UNIDEN MIC JACK
<![if !supportLists]>∑ <![endif]>EXTERNAL SPEAKER JACK
<![if !supportLists]>∑ <![endif]>EXTERNAL PA JACK
<![if !supportLists]>∑ <![endif]>MIC GAIN
<![if !supportLists]>∑ <![endif]>CLARIFIER
<![if !supportLists]>∑ <![endif]>VOL/SQL
<![if !supportLists]>∑ <![endif]>S-RF METER W/SWR
<![if !supportLists]>∑ <![endif]>ANL/NB
<![if !supportLists]>∑ <![endif]>CB-PA/ CB ROGER BEEP
<![if !supportLists]>∑ <![endif]>CLEAR DRIVE TECHNOLOGY
<![if !supportLists]>∑ <![endif]>NIGHTWATCH ILLUMINATION
<![if !vml]>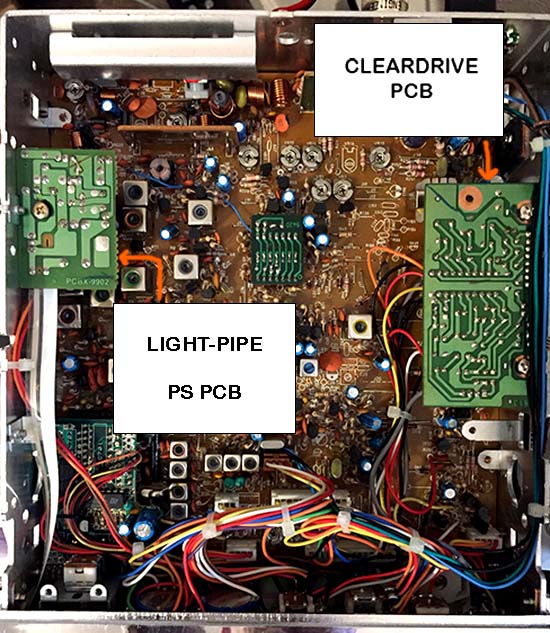 <![endif]>Once the cover is removed itís obvious there is something different about this radio. On the right side of the chassis (with the front of the radio facing you), youíll find the Compander board, where the mojo for Cherokeeís Clear Drive resides.
<![if !vml]>
<![endif]>HOW CLEAR DRIVE WORKS:
<![if !supportLists]>1. <![endif]>It dampens very low, annoying signals like white-noise, while boosting the stronger ones allowing you to hear what you really want to hear. In practice it works fairly well, but not all-of the time.
<![if !supportLists]>2. <![endif]>It boosts your transmit audio. This actually has an audio compression circuit that raises the quieter audio while lowering the peaks which gives the operator a louder / stronger sounding signal.
†
The PCB on the left side of the chassis is the circuit that supplies the voltage driving Cherokeeís Light Pipe technology, which illuminates the front panel. When the radio BRT/DIM switch is set to BRT the faceplate lights up very nicely whether it be daylight or nighttime, and if switched to DIM the Light Pipe drops to a very low level that gives the user the appearance it is no longer illuminated, especially in bright daylight.
The Nightrider line was fairly short lived and marketed for only a few years, so itís hard to say how well the Light Pipe illumination holds up over years of constant usage (the radio Iím reviewing in 2020 was NOS, possibly a display model).
Unlike many radios sporting an 8719 PLL, this radio uses the Motorola MC145106 PLL chip - the same chip used by other manufacturers (export rigs) because itís so easy to modify. Before you start licking your chops about this chip, I have to bust that bubble because the Cherokee 150 PLL chip is encased in black epoxy that cannot be removed without causing damage to the motherboard. Iíve read that it was the only way Cherokee could get this radio through the FCC inspection, and it sounds as likely as any other reason you could think of.
<![if !vml]>
<![endif]>
Figure 1POPULAR COMMUNICATIONS FEB 2000
HOW WELL DOES THE 150 WORK?
Like most modern CB radio receivers, selectivity isnít the greatest (but not the worst). The crystal filter is small, and if you were comparing it to a filter in one of the older classic sideband radios it looks downright miniscule. However, compared to todayís radios, itís on par with the whole lot (the exception being the President Grant II Premium).
I found the channel selector to be smooth, not as clicky as the one on the President Lincoln II, and not as sloppy as some others, so for me - it seemed just ďrightĒ.† The placement of the volume control perturbed me because Iím accustomed to having it next to the mic jack, so I found myself inadvertently knocking the clarifier out of whack every time I tried to adjust the volume. If this were my daily driver rig Iím sure that my brain would come around to Cherokeeís layout design, nonetheless it was annoying while having it in my vehicle for this review.
I donít usually use the squelch control, preferring to adjust the RF Gain, however I did like the way this one worked; it was smooth and didnít POP when a station strong enough to break squelch was received, unlike other radios Iíve reviewed.
The noise blanker worked pretty well. Not as good as a Uniden Grant XL or Cobra 148, but quite a bit better than the one in the Midland 79-290.
CB/RB: It took a few seconds for my brain to click, but when it did I realized the switch acts as a toggle for the ROGER BEEP being ON, or OFF. Beyond the typical functions assigned to the switches youíd typically find on a deluxe AM/SSB mobile radio, itís the last two: C.D./Off and Bright/Dim, that set it apart from other radios.
<![if !vml]>
<![endif]>
Figure 2 THE SWITCHES ARE: NOISE-BLANKER / ANL, PA-CB-CB/ROGER BEEP, CLEAR DRIVE ON-OFF,
AND LIGHT-PIPE CIRCUIT DIM/BRIGHT
C.D. switch: As mentioned earlier, CD stands for ďClear DriveĒ, a novel approach that helps you receive the signal you want to hear, while knocking down the white noise lurking in the background. In practice I found Clear-Drive to be effective about 50% of the time. It kept most low level noise low while boosting the signal of the station I was talking to. The rest of the time there was a slight distortion of audio on signals that were coming in very strong. I played around with it more than I would have under normal circumstances because I was very curious to hear the difference it made in reception.
The second feature of this board is an audio compression circuit that works much like a Turner +3 by boosting the lower levels of a personís voice, while knocking down the top-end so the transmission sounds much louder and consistent. This wasnít as noticeable on AM, but on sideband Ė Yeah Buddy, my stock microphone sounded like a real powerhouse. Initially I had a Turner +3 hand microphone on the radio set mid-way but I quickly surmised it was un-necessary and replaced it a standard Cobra coffin style mic. It sounded great.
Bright/Dim switch: Usually this switch makes the S-meter and channel display dim so that itís not distracting to anyone in the vehicle while driving at night, but with the Cherokee, it has more to do about the ďNight PipeĒ circuitry, and how it affects what you see.
This works pretty darn well! When the switch is on BRT the whole faceplate is nice luminous blue. I really enjoyed this feature whenever I was driving at night because it wasnít as to be a distraction. When set to DIM, the blue illumination was decreased, so while driving during daylight hours it looked like any other non-illuminated faceplate. If thereís doubt about it Ė Yes, I really like it (I donít have any data about how well the illumination holds up over years of everyday use, but I like it).
<![if !vml]>
<![endif]>
Figure 3CLARIFIER CONTROL LOCATION IS EASILY MISTAKEN FOR VOLUME CONTROL (IF YOUíRE NOT CAREFUL)
FINAL THOUGHTS
This is a legal CB radio that canít be modified for extra channels, which is fine with me because I prefer using a CB for CB, and an HF radio for everything else. The single final doesnít allow much tweaking for additional watts, which (once again) is fine, because itís a legal CB radio. The illuminated faceplate is nice, and the speech compression part of the board works really well, but I donít think Iíd grow any fonder about the way it altered some signals. One modification I would do would be to change the bulb behind the S-Rf meter to a white LED as the yellow color sticks out like a sore thumb. The Nightrider 150 (or the AM-only Nightrider 100) is a transceiver whose basic features meet the level of performance of its competitorís but doesnít surpass them, so unless you just like to try out new radios, there isnít a gotta-have-it feature that would get you to pull the trigger on purchasing one. This could have been the reason they werenít around long. As with all of my reviews, if I come across additional information about the radio I will modify the review.
COMPLETE POP COMM ARTICLE ON CHEROKEE NIGHTRIDGER #1
COMPLETE POP COMM ARTICLE ON CHEROKEE NIGHTRIDGER #2
COMPLETE CBTRICKS NIGHTRIDER 150 LINK
MIKEíS RADIO REPAIR NIGHTRIDER 150 OVERVIEW
NOTPURFECT NIGHTRIDER 150 PAGE
73
WOODY
<![if !vml]>
<![endif]>